Només quan plou
Aina de Cos
Només quan plou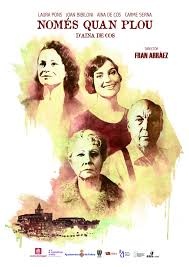 INFORMATION
Synopsis: On the night of January 5, 1937, Aurora Picornell is murdered in the cemetery of Porreres.
The same night a fascist with a bra stained with blood appears in a café in Molinar. Twenty years later, her sister Llibertat Picornell returns to the island: the nightmare continues.
The work is inspired by the life of Aurora Picornell through the memories of her sister Llibertat. It speaks to us of brutality and silence, and of love for those who are no longer there. She speaks to us about honouring our dead, linked to us "like in the night the flames in the darkness".